About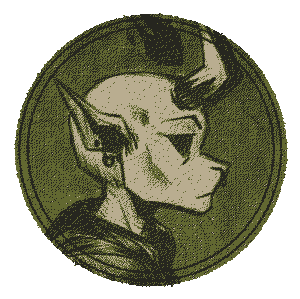 Me
Illustrator-maker-fellow, weird apparition lurking in Lower Appalachia, conjurer of images and worlds and objects diligently crafted.

Much of my work features and utilizes creaturefolk and the odd realms which they dwell; a playground for me to explore and reflect on various experiences and ideas in a way that allows me to be more emotionally tangible than solely a one-to-one replication.

Professionally, individuals and folks with indie projects entrust me to bring about their unique visions though my particular visual style.


My fascinations and fixations change and vary as my curiosity wonders like a forager in the woods, but I find myself always coming back to flora and fauna, the odd and other worldly, communities and the way they form and function, the act of making, solarpunk-adjacent topics, utilizing the fantastical as more than escapism, the occult, and snails.

I work with a wide range of media, but primarily use digital tools. I also enjoy zine making, the art of tattoo, world building, and anything I can use to create.
The Site
This corner of moss-green [or whatever color is appropriate for the season] cyberspace acts as my portfolio, art archive, and virtual studio, my primary dwelling on the Internet for the curious wonderer to see my work and peer into my creative doings.

Most of this site is crafted by me, with some help of friends more knowledgeable than myself giving me pointers, and the generous folks elsewhere sharing their CSS/HTML/Javascript knowledge freely [the shop site, however, I did not code].

I've been hand-building my portfolio sites since youth, and it is a practice I am keen to to maintain. Its reflective of the DIY-or-die attitude I embody as I progress through my creative endeavors. Having the primary "home" for my work be built in the same spirit is most fitting in my eyes.